Welcome to the Unofficial Daraku Tenshi Wiki!
The Daraku Tenshi Wiki is a collaborative website that anyone can edit!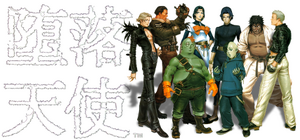 The Daraku Tenshi Unofficial wiki!
Edit
Welcome to the Daraku Tenshi wiki headed up by the community of the unofficial message boards at http://s15.zetaboards.com/Daraku_Tenshi/index/ , amd the unofficial website at http://darakutenshi.t35.com/ . This wiki can be used for storing information about the game, as well as the characters, strategies, and ever the designers!
The Fallen Angels (堕落天使 Daraku Tenshi) is a 1998 2D fighting arcade game developed by the Steel Hearts development team and published by Psikyo. It is Psikyo's second attempt in the 2D versus fighting genre after Battle K-Road.
The sprites for 4 unplayable characters have been found in the ROMs of the game. The developers of the game then reportedly moved to SNK Playmore, supported by the observation that many of the characters bear striking resemblances to fighters that later appeared in SNK's The King of Fighters series and Garou: Mark of the Wolves. Game director Mitsuo Kodama, later became a designer on some SNK titles including The King of Fighters '99 and has been a founding as well as an active member of K2 LLC... Read more