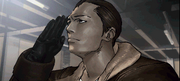 Harry Ness



Occupation

Marine Captain

Age

34

Height

6'4"

Weight

227 lbs

Sex

Male

Birth Date

July 7th 1970

From

USA

Voice actor
Harry is Captain of the USA Marine Corps 4th Division 55th Platoon. He was sent to Eden by the president to try and quell the situation. He has a daughter but he and his wife are seperated as a result of him always working.
Ad blocker interference detected!
Wikia is a free-to-use site that makes money from advertising. We have a modified experience for viewers using ad blockers

Wikia is not accessible if you've made further modifications. Remove the custom ad blocker rule(s) and the page will load as expected.