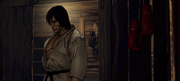 Torao Onigawara



Occupation

Martial Artist

Age

47

Height

4'4"

Weight

234 lbs

Sex

Male

Birth Date

May 27th 1953

Origin

Japan

Voice actor
Torao held firm in his life philosophy to live, and breathe karate, even after he became homeless. He once worked for the army and taught martial arts to the soldiers. During this time he trained Harry Ness.
Ad blocker interference detected!
Wikia is a free-to-use site that makes money from advertising. We have a modified experience for viewers using ad blockers

Wikia is not accessible if you've made further modifications. Remove the custom ad blocker rule(s) and the page will load as expected.