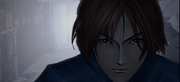 Yuiran is a 20-years-old girl who works as a bartender at the "Wind Fish" and, sometimes, bouncer at the bar along with her twin brother Yuiren, generally disliked by her, who sing as a woman. Usually bold and easily irritable she sometimes exhibits a feminine side.
Yuiren



Occupation

Bartender and sometimes Bouncer

Age

20

Height

5'6"

Weight

126 lbs

Sex

Female

Birth Date

March 3rd 1984

Origin

Unknown

Voice actor
Ad blocker interference detected!
Wikia is a free-to-use site that makes money from advertising. We have a modified experience for viewers using ad blockers

Wikia is not accessible if you've made further modifications. Remove the custom ad blocker rule(s) and the page will load as expected.